---
The global risk landscape is changing. Regulatory change is in a state of flux, technology is evolving at an unprecedented rate and the economic outlook is increasingly volatile. In this new era, businesses must decide whether they will continue with business as usual, or instead rethink their approach to risk management.
Our risk consulting practice is committed to helping our clients evolve their business models and thrive within an increasingly complex environment. The team advises clients across the full spectrum of compliance, governance, and risk management matters, working in partnership with the firm's lawyers to deliver holistic, comprehensive and business-focused advice.
The practice is a key component of our wider risk advisory offering, which provides proactive, integrated and global advice in relation to the new and quickly evolving risk landscape clients are facing. Comprised of experienced individuals who have held senior positions within global financial institutions and consultancies, as well as former regulators, our team focuses on helping risk and compliance functions discharge their responsibilities, delivering independent assurance, assessment and remediation services, and improving the efficiency and effectiveness of control environments and governance frameworks.
Flexible risk consultants
We also offer a flexible resourcing program for regulatory, compliance and other risk management professionals who work on-demand on a wide range of complex projects across major industry sectors.
Designed to augment our risk consulting practice, the program allows us to supply clients with skilled individuals whose technical and operational talents are required infrequently, but are crucial when needed. This approach provides us with additional agility to respond to our clients' need for scalable, seamless support on regulatory, compliance and risk projects.
This program is aimed at experienced consultants working in regulation, compliance and risk who seek greater flexibility in their working arrangements. All applicants undergo a rigorous selection process to ensure they have the relevant knowledge and experience to meet our clients' needs and so they integrate into our risk consulting practice.
To join our network of flexible risk consultants, visit our careers recruitment page.
Our areas of work include
Board effectiveness
Board training
Controls testing
Design and operational effectiveness testing
Financial crime, including anti-money laundering, sanctions, anti-bribery and corruption
Governance and oversight
Operational resilience
Regulator engagement
Regulator-mandated reviews
Regulatory authorizations
Regulatory change
Remediation and redress schemes
Reporting and management information
Risk and compliance frameworks
Sales processes and post-sales handling
Staff training and development
Vulnerable customers
Contacts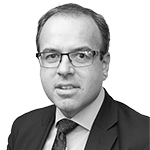 Head of risk consulting, Europe, Middle East and Asia
Head of Risk Consulting EMEA Advisory