---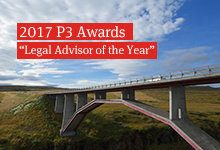 Norton Rose Fulbright scores 'Legal Advisor of the Year' at 2017 P3 Awards
Global | Recognition | October 2, 2017
Norton Rose Fulbright recently received the "Gold Award" at the 2017 P3 Awards & Conference as the "Legal Advisor of the Year." The P3 Awards recognize and reward outstanding achievements in public-private partnerships across the Americas. The ceremony was held September 26, 2017, in Washington, DC.
Throughout 2016 and 2017, Norton Rose Fulbright worked on a range of challenging and high-profile P3s across the Americas. The judges noted our work on the acquisition of Northwest Parkway in Colorado and our partnership with the Global Infrastructure Hub to produce a tool for governments and stakeholders in developing economies to assist in building a pipeline of viable P3 infrastructure projects. The judges highlighted the diverse asset class and market coverage of Norton Rose Fulbright during 2016 – 2017 and our welcomed the use of novel deal structures to get projects over the line.
"There is no geography, sector or role in which Norton Rose has not demonstrated a strong and consistent presence," concluded one judge.
In addition, the Vista Ridge Regional Supply Project received the Gold Award as "Best Utilities Project." The firm acted as co-counsel to the San Antonio Water System in connection this project to supply San Antonio with 50,000 acre-feet per year of potable water on a long term basis. The project was previously recognized as the 2016 Water Deal of the Year by Global Water Intelligence, as 2016 "North American Deal of the Year" by Project Finance International and as the "North America Water Deal of the Year" at the 2016 IJGlobal Awards.
Norton Rose Fulbright has one of the most successful PPP practices in the world having closed well over 100 PPP projects globally. We have been, and continue to be, at the heart of some of the largest and most complex PPP deals worldwide.